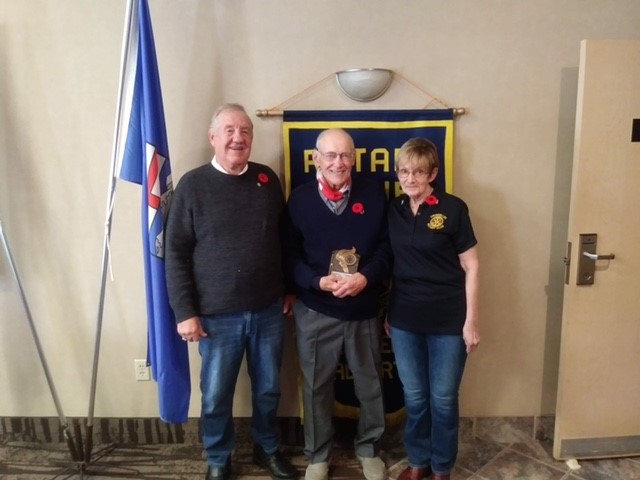 It is with great pleasure that Rotary takes this opportunity to highlight dedicated and outstanding community contributions. Often the commitment of an individual may not receive the public acknowledgement so richly deserved.
The Unsung Hero is an award which acknowledges continuous volunteerism that benefit so many in Drumheller and area.
Our recipient is a native Drumhellerite. He is respected as someone who is conscientious and considerate in all he does and respected as someone who will volunteer in giving a helping hand, whether it be giving people rides to appointments or shopping. You can always see him riding his bike, walking the dog and in his travels cannot pass by any garbage without picking it up. This even includes masks which his family begged him not to pick up.
Just some of his contributions include:
Taught English and Drama at Greentree School for over 30 years
33 years ago he took on the responsibility of Treasurer for Rural Crime Watch and he is still involved
Over the years he has been a key part of the Legion – always willing to help where and when needed. This includes the Poppy Drive – chief cook and bottle washer at the pancake broadcast and Fish and Chip nights – participant in the Color Party which marches at special functions – secretary and Legion historian
His contributions reach out to third world countries. He gathers bikes, delivers them to Cals Cycle in Linden where they are refurbished and sent to African families
All these contributions describe our UNSUNG HERO – Bill Eremko